Aviation / Sustainability
Airport looks to hyperloop as sustainable alternative to crisis-hit air travel
By Andrew Sansom | 12 Jun 2020 | 0
With the COVID-19 pandemic causing air travel demand to plummet, Amsterdam's Schiphol Airport has announced it will expand its involvement in hyperloop after a new study showed how the high-speed mode of transportation could replace a large share of the airport's short-haul flights.
The new study predicts that this alternative transport system could act as a substitute and transit up to 12.5 million passengers that will travel via Schiphol Airport in 2050.
Running on solar energy and producing zero emissions, the hyperloop is described as a sustainable transportation system in which magnetic hovertrains glide through air-free tubes at between 600 and 1000km per hour – comparable with the speed of airplanes.
"The aviation sector is in a situation we have never experienced before," said Hassan Charaf, head of innovation at Royal Schiphol Group. "The recovery will take several years, but it's important to continue to invest in innovation and sustainability. We believe it's important to be involved in promising developments in the field of mobility in order to meet the demand for sustainable transport in the future."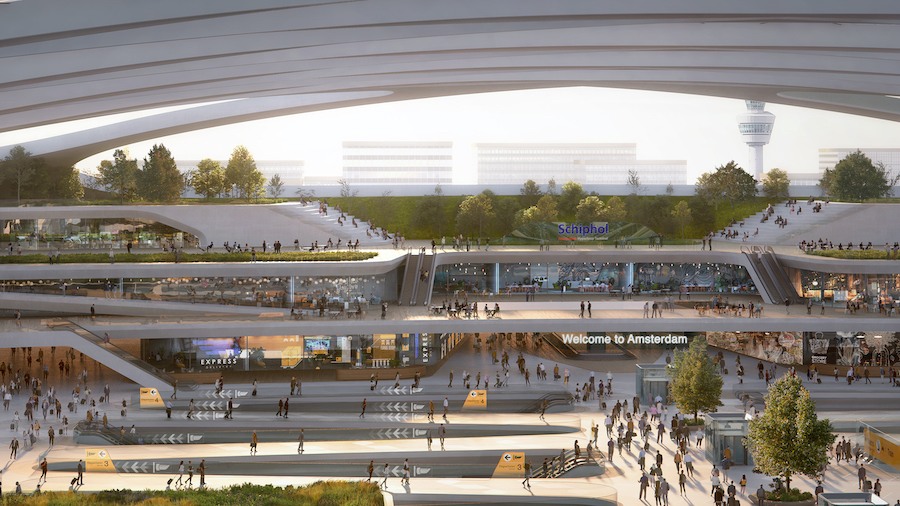 The study, jointly conducted by Schiphol Airport and Dutch company Hardt Hyperloop, with the support of design firm UNStudio through its Futures (UNSFutures) team, looked at how the system could reduce air travel congestion.
It proposes an initial network that connects Schiphol with the main neighbouring airports in Germany, Belgium, France and the UK, reducing travel times from hours to minutes. The journey from Amsterdam to Frankfurt, for example, would take 51 minutes – shaving about 15 minutes off the time of a direct flight.
The research also found that the Hardt Hyperloop can play a major role in Schiphol's ambition to become a sustainable multi-modal hub.
Stefan Marges, lead on the Hardt Hyperloop study, said: "In the transition to a carbon-neutral society, it's crucial to not only improve existing modalities but also to explore alternative, innovative mobility solutions. This study shows that hyperloop is a valuable addition to the future transportation landscape. In particular, it lays the foundation for hyperloop to become a successful mode of sustainable transport in the years ahead.
"Partnerships, co-development and public-private collaboration are essential elements to spark such a breakthrough technology. We highly appreciate Royal Schiphol Group's progressiveness in exploring innovative solutions such as hyperloop in the pursuit of becoming the world's most sustainable airport."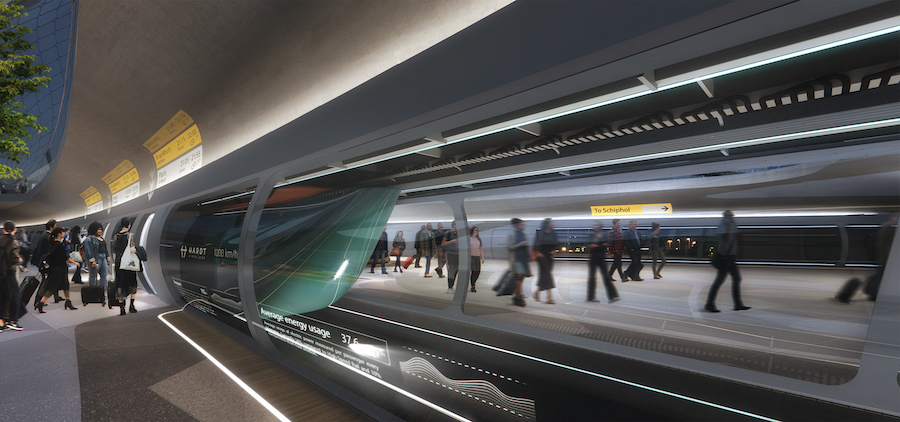 In 2018, UNSFutures partnered with Hardt Hyperloop to present a vision for the future of European Hyperloop stations and conduct an initial study of how this mode of transport can incorporate itself into cities and towns of different sizes and contexts.
The design conceives a series of tessellating components that would allow the hyperloop hubs to adapt to a range of contexts: city centre, city periphery, or joined to an existing infrastructural hub such as an airport.
UNStudio's founder Ben van Berkel, commented: "The hyperloop is not only a realistic and viable alternative to flying; it's going to revolutionise travel. It will provide extremely fast travel times with direct connections between cities, enabling completely new ways of working and spending our leisure time, which in turn will lead to a multitude of economic, environmental and knowledge exchange benefits."
The latest research was also supported by Royal BAM Group, CE Delft, Stibbe, AirportCreators, Dutch Boosting Group, and SEO Amsterdam Economics in an advisory role.