Healthcare / Quality improvement
Bedside co-ordinator role created at field hospital to help channel learning
By Andrew Sansom | 14 Apr 2020 | 0
The management team for the NHS Nightingale London Hospital has devised a new role to help capture learning insights from the bedside care environment and ensure that everyone working in the hospital is up to speed with all changes made as regard to operations and clinical practice.
The new bedside learning co-ordinator role was revealed during a webinar on lessons from the UK experience held by US body the Institute for Healthcare Improvement (IHI), on Friday (10 April). Contributions were heard from a panel comprising James Mountford MD, chief of quality and learning at NHS Nightingale, and director of quality at the Royal Free Hospital; Dr Dominique Allwood, associate medical director at Imperial College Healthcare NHS Trust; Prof Richard Bohmer, senior fellow at Nuffield Trust; and Prof Mike Roberts, managing director at UCLPartners.
Mountford set out the challenges presented by the disease in respect of the myriad field hospitals being built at speed around the UK – and indeed in other countries.
The first challenge he outlined is the unusual setting, highlighting that "experienced intensivists coming off their shift will describe that disorientation of their situational awareness as being a major issue in their ability to provide care".
Secondly, staffing is equally unusual, with some people involved who have never worked in healthcare previously. Mountford explained that last week when stood in the receiving bay awaiting the first patients at the Nightingale, he was supported by a team of six others: three of them experienced emergency room nurses; one a dental hygienist; while the remaining two had been working in non-healthcare roles.
Finally, Mountford pointed out that the knowledge and understanding about the disease itself is still highly uncertain.
"Picture turning a conference centre into a hospital in the context of a disease where you're learning every day about its biology and its treatment," he said. "We're also facing staff going off sick because it's really hard to do this work at a social distance."
Supporting staff and capturing learning
The bedside learning co-ordinator role is an attempt to alleviate some of these uncertainties, particularly in respect of supporting the staff in providing high-quality care in such an unusual environment, and to capture learnings, both in the clinical and operational context, to ensure continuous quality improvement.
Picking this up further, Dr Dominique Allwood explained: "One of the things we thought could help is to have an additional role to be the eyes and ears of what is going on at the frontline to help share the learning out, take some of the burden away of the things that need to be done, and help bring that back into operation. This is particularly important for field hospitals, where people don't tend to be employed by that organisation, and we're borrowing staff from around our system to come and work there."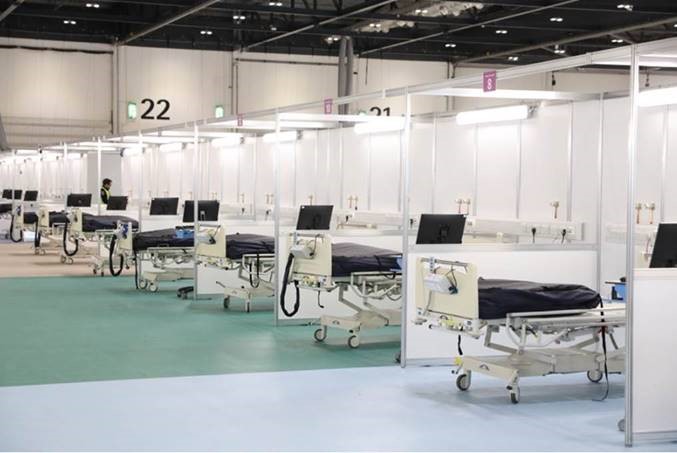 As well as working long shifts, the staff haven't got a lot of time to be "doing the work around the edges", while many of them may only do a single shift before leaving the organisation.
The role of the bedside learning co-ordinator looks across all the domains of quality. They consider safety, registering incidents on an incident capture system and taking the burden off the staff having to perform this task themselves. They look at the welfare of the staff on the shift to understand how they are coping. Another area is about the outcomes and practices that are going on and which might need to be changed. Their observations and findings are then fed up through quality and learning forums to the internal change authority at Nightingale, which is made up of clinicians and operations people responsible for evaluating those changes deemed to be substantial.
Stressing that the bedside learning co-ordinator is instrumental in facilitating the continuous improvement process in the field hospital setting, Dr Allwood gave an example of real innovation that had already occurred. It involved a physiotherapist performing a specific technique on a ventilated patient, and managing to improve significantly the oxygen levels of that patient without changing any oxygen setting.
"That's an example of a highly skilled practitioner doing something in the moment," said Dr Allwood. "How do we capture that learning and get it up from the bedside, up the organisation, and back down again to say, 'everybody should be doing that'?"
Making changes on multiple fronts
Describing the learning system at the heart of the Nightingale, Prof Richard Bohmer said the key to it is making changes on several dimensions at the same time.
"We change protocols and standard operating procedures, we have daily briefings for each shift going into the contaminated zone, and debriefing for each shift coming out of the zone," he said, adding that, along with the introduction of the bedside learning co-ordinator role, there is induction for new staff, managed through the hospital's education and training group.
Some of the changes that need to be made, he said, will be immediate and rapid, some will require validation and simulation, and others will require formal quantitative research –­ but all those three elements will feed into the same overseeing body.
He stressed: "We won't put a change into action until the internal change authority has tested it and said it's ready to go, and it's a change we should make."
Sharing learning

Finally, Prof Mike Roberts, described the role of UCLPartners – a partnership organisation comprising 23 NHS trusts, nine academic institutions, 20 clinical commissioning groups, and half a dozen integrated care systems and sustainability and transformation partnerships – in helping implement the learning system at the Nightingale.
A group consisting of evidence synthesisers and system evaluators from UCL has been tasked with working with a group of intensivists, clinicians and academics to pull together literature from peer review journals, grey literature (materials and research produced by organisations outside of the traditional commercial or academic publishing), and the learning received from clinicians on the frontline. The outcome is something that, according to Prof Roberts, can then be fed back into the system and isn't "overwhelming" – as, at the current time, 50- or 60-page guidance documents are "not fit for purpose".
The reports feeding into the Nightingale from this process may change, he warned, adding that they're not evidence-based but "what people understand today is the acute learning".
He added that international knowledge-sharing sessions were taking place with relevant intensive care societies in several European countries, as well as with specialists in the United States. And meetings were also due to take place with health ministers across Europe to help share learning about the disease and its treatment. In the UK too, UCLPartners has set up a system of regional and national collaboratives with patient safety and improvement teams, working "to try to implement the changes we're seeing from our clinical conversations".