Healthcare / Service redesign
Canadian events venue converted into field hospital on COVID-19 standby
By Andrew Sansom | 05 May 2020 | 0
The Western Fair District Agriplex in London, Ontario has been adapted into a field hospital for London Health Sciences Centre (LHSC) to help the health system deal with any surge in patients with COVID-19.
The conversion of the facilities, which usually provide 126,000 sqft of events space, was completed last month. Part of the southwest Ontario region's pandemic response plan, the field hospital has been prepared for readiness should the extra capacity in the system be needed.
The Western Fair District was chosen owing to its central location with an opportunity to house up to 500 beds in the Agriplex and expand to the sports centre if required. The facility has plentiful space and allows for an entrance for transportation and service vehicles along the outside perimeter.
HDR architects and in-house biocontainment experts were called in to help plan and develop design concepts for the 144-bed temporary care facility. If required, it will accommodate recovering, lower-acuity, confirmed patients with COVID-19 who are not yet well enough to return home.
The layout comprises 18 patient bays to a pod, with 14 pods in total, constructed using pre-fabricated divider panels. Each patient bay measures nine x 10 feet, with a four-foot opening, and a minimum of three feet around the patient bed.
Divider screens were made from existing modular, zinc-coated steel frame and melamine panel infill divider screens. Electrical power drops have been provided via a structural column and distributed horizontally through a floor surface-mounted rubber raceway along the patient bay headwall. Portable medical gas will be used at the patient bay where required, while other medical equipment will be portable. Only general lighting has been provided. The entire pavilion interior space has been set up for negative pressure, which required the sealing of some existing large openings leading to other spaces of the complex.
Chorley & Bissett Consulting Engineers reviewed existing mechanical systems at the Agriplex, and set about making any necessary adjustments to plumbing, fire safety and heating, ventilation and air conditioning systems.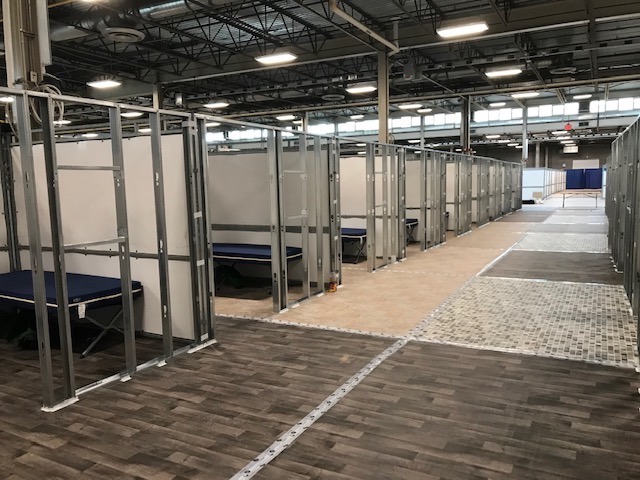 LHSC has also introduced several measures to support the safety of patients and staff while dealing with general, biomedical and confidential waste streams at the field hospital. In providing patient washrooms, LHSC sourced six handicap-accessible portable toilets, and two traditional-sized portable toilets. It wanted a high number of accessible-sized toilets to allow a nurse to enter the washroom with the patient to assist them. These washrooms are located adjacent to the patient rooms, with portable handwashing sinks also in place for both clinical and patient use.
LHSC has also placed a wipeable plastic chair in every patient room, as it believes that giving patients the option to sit up in a chair is important for healing and maintaining muscle mass while convalescing.
In addition to HDR architects, LHSC delivered the new field hospital by partnering with GBI Facilities Management, Convergint, Centerline Construction, Chorley and Bissett, Western Fair District, and the London Fire Department.