Healthcare / Critical care
COVID-19 care capacity boost thanks to major ICU and NICU expansion project
By Andrew Sansom | 28 Apr 2020 | 0
Phase one of an expansion project to transform and redevelop both the adult and neonatal Intensive Care Units at Chelsea and Westminster Hospital, in South West London, is now complete, with 12 new ICU beds supporting the critical care capacity for COVID-19 patients in the capital.
Once the critical care project is complete, the capacity of the adult ICU will increase by 45 per cent – enabling the hospital to care for an additional 500 adult patients each year.
The final expansion of the Neonatal Intensive Care Unit (NICU), due to complete in early 2021, will mean the hospital can provide life-saving care for 1000 babies each year.
A major general hospital, Chelsea and Westminster Hospital was originally completed in 1993. The NICU and ICU, located on the hospital's third and fifth floors respectively, were not designed to meet current attendance or healthcare standards. The expansion project will address these issues and provide more clinical spaces that are appropriately sized to reflect leading critical care units.
The overall expansion project will consist of extension and refurbishment on both floors, providing 42 cot spaces in the NICU and 20 bed spaces in the ICU.
Neonatal and adult patients are now being treated in the state-of-the art facilities, which feature some of the latest technology and equipment, bespoke furniture, adaptive specialist light and an increase in space.
Carried out by Ryder Architecture, the design of the redeveloped NICU and ICU has focused on the needs of the patients and their families, as well as the staff and clinical teams. Staff have access to advanced technology and equipment, including adaptive circadian rhythm lighting – artificial light that matches the needs of human biological cycles and which can be individualised for each patient.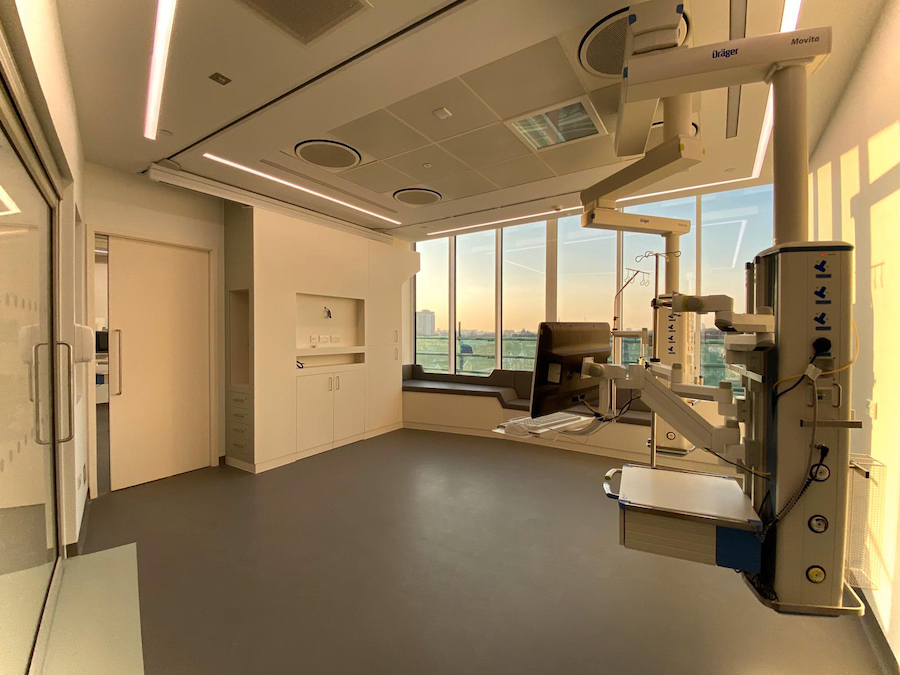 The NICU features dedicated family rooms, which have been designed with input from parents to create a relaxing environment and cater for siblings. Contemporary and stylish furniture has been carefully selected to be comfortable and practical for parents who can often spend many weeks in the unit. Cot spaces can be private if desired but are also part of a larger shared nursery space, where parents can seek support from one another if they need it.
In the ICU treatment cubicles, patients and relatives have uninterrupted views across Chelsea and Kensington owing to the full-height glazing running the length of the north side of the extension. Each treatment cubicle accommodates a bespoke and integrated multi-functional unit, which consists of a preparation area, media unit, storage spaces, and relatives' seating and bed. All these elements have been designed to create a patient-focused environment, which is expected to transform the care and patient experience at Chelsea and Westminster Hospital.
CW+ is the official charity of Chelsea and Westminster Hospital and has raised £12.5m as part of the Critical Care Campaign to part-fund the redeveloped ICU and NICU.