Healthcare / Quality improvement
Learning from the response of Australia's health system to shape a new normal
By Andrew Sansom | 01 Jul 2020 | 0
A new report identifies seven lessons from the response of Australia's health system to the pandemic that should be continued into a new normal.
The report by the by Grattan Institute also describes a modelling of the risks associated with different strategies to relax the lockdown in Australia.
The country's response to the coronavirus moved through several phases: containment; reassurance amid uncertainty; cautious incrementalism; and escalated national action. The country is now in the fifth phase – transition to a new normal – which, unless a vaccine is found, says the report, has no endpoint.
Four key successes are highlighted in the report: co-operative governance informed by experts (evident, most notably, in the establishment of the National Cabinet); closure of international borders and mandatory quarantine; rapid adoption and acceptance of social distancing measures; and expansion of telehealth.
There were also key failures: the mishandling of the Ruby Princess cruise ship had fatal results; borders weren't closed quickly enough; some aspects of the health system response were too slow; and there were mixed messages about what was expected of the population.
Nevertheless, says the report, Australia's health system mostly adapted well to the challenges presented. All aspects of the system – primary care, mental health, and alcohol and other drug services – have embraced new ways of working because of spatial distancing. Health professionals took on new roles; services pivoted from waiting for people to make appointments to reaching out to patients; and many face-to-face consultations were replaced with phone or video consultations. Disruptive change – advocated by many for decades – was implemented rapidly, the Institute notes, and often embraced by patients and providers alike.
"Planning for this transition is as important as the planning of the response during the initial wave of the pandemic," states the report. "Without good planning for the transition, we risk a second wave and we risk not benefitting from the health system changes that occurred during the pandemic. That would be another tragedy on top of the trauma caused by the pandemic itself."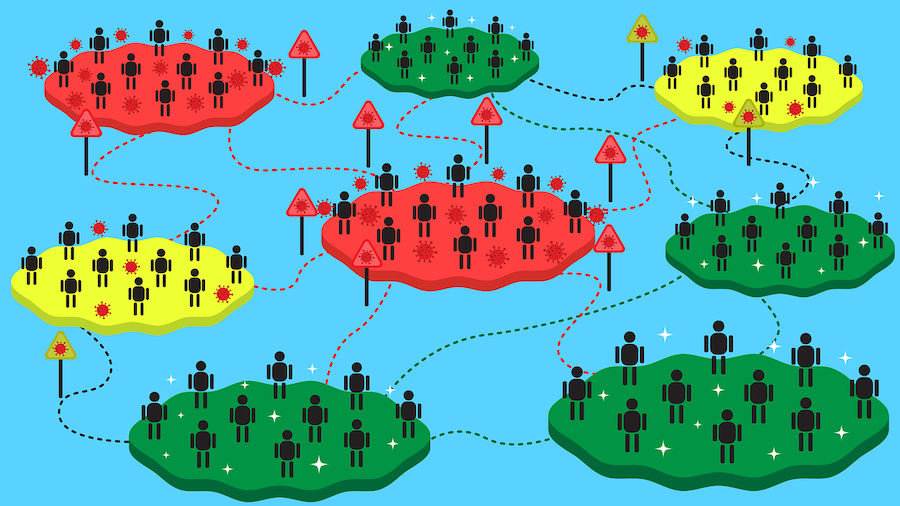 States and territories, and the Australian Government should establish participatory processes to plan the transition to the new normal, says the report. These processes may be a special-purpose review committee or build on the task groups established to manage the pandemic – but what's important is that both consumers and professionals are involved.
The seven lessons from the health system's response that should be incorporated into a new normal are as follows: expand telehealth; expand hospital-in-the home; encourage outreach and telehealth with new primary care funding models; restart public elective surgery differently, including using private hospitals; improve health system readiness by better planning and co-ordination; strengthen supply chains to ensure supplies of personal protective equipment and ventilators in the event of a second wave or new pandemic; and build better on-the-ground co-ordination.
Telehealth, telemonitoring and outreach
On the first of these lessons, the report argues for improved access through telehealth. It explains how from mid-March, the Government started to drip-feed changes to support telehealth in primary care, with two groups of items introduced: one for video-conference consultations, and one for telephone consultations if video was not available.
In the new normal, says the report, health professionals and their patients need to assess when telehealth should be the preferred delivery method because of the nature of the problem, distance to be travelled, and other factors. A patient's digital literacy will need to be assessed in customising care, and funding should be provided to develop programmes to reduce or remove the barriers created by the digital divide. Primary Health Networks (PHNs) are well placed to do this, it says.
There is also a warning that telehealth is prone to a 'woodwork effect' – where demand comes out of the woodwork when a new benefit is available. Risks include over-servicing, misuse by some providers, and fraud – but, insists the report, the benefits of telehealth are undeniable and, in the context of increasing prevalence of chronic disease, telehealth items should enhance continuity of care.
"The issue becomes how to ensure new items are not abused," cautions the report; "for that reason, the COVID-19 items may not be suitable for the new normal."
It suggests that in line with the principle that telehealth must enhance the existing clinician/patient relationship, new telehealth items should be limited to patients with an established relationship to a practice. Telehealth is particularly useful in mental healthcare, says the report, and may help meet an expected surge in demand for psychological support services brought on by the pandemic.
The report also highlights a potential drawback – that if wider access to telehealth reduces the viability of, or trust in, specialists who are based in regional centres, it may be a net negative.
Encouraging outreach with new primary care funding models is another important lesson identified. During the pandemic, staff in some Victorian community health centres made more 'outreach' phone calls to vulnerable patients, to motivate them and advise them on how to manage their condition. This type of practice, says the report, should be encouraged and supported with a new funding model. Funding, it adds, needs to move from the current fee-for-service model towards a 'blended' model that combines fee-for-service, capitation, and commissioning for primary care.
New 'virtual hospitals' were planned as part of the pandemic, with a mix of telehealth and telemonitoring services, and the report believes this approach should become part of a new normal. States should also expand hospital-in-the-home and rehabilitation-in-the-home services, and outreach into residential aged care facilities. Telemonitoring is an important aspect of the hospital-in-the-home model but will require viable business models, notes the report.
Joining up the public and private system
Lesson four is to improve efficiency by connecting the public and private systems, and better management of elective procedures. The report notes that owing to the shutdown of elective procedures, ordered as the pandemic spread, average total waiting times for surgery increased, and created a 'care debt' of delayed procedures. It argues that states should consider negotiating long-term contracts with private hospitals, so that procedures can be performed in these hospitals to help clear the elective surgery backlog. States should also consider this strategy to meet future demand for elective procedures. On managing demand for elective procedures, states should develop agreed assessment processes for high-volume procedures, such as knee and hip replacements and cataract operations, and reassess all patients on hospital waiting lists. Reassessment could be done remotely using telehealth, the report adds. And there is a further proposal to invite specialists in each area, together with referring clinicians, to develop evidence-based criteria for setting priorities and for developing agreed care paths – a move that should help improve care and equity, and reduce admission rates.
The report notes that despite Australia's largely successful response to the pandemic to date, the crisis exposed some key weaknesses in governance, capacity, surveillance, and post-pandemic planning. Ways in which these can be strengthened are explored in more detail in the report.
The resilience of the health system also needs to be bolstered by supply chain reform. Flaws in the widely accepted supply chain mantra of 'just-in-time' efficiency were exposed by the pandemic, with many products sourced from China. During the pandemic, production and delivery times grew longer and a global surge in demand increased competition for critical items such as personal protective equipment.
"Building supply chain resilience does not mean abandoning the just-in-time strategy, but it does require more attention to the risks of not holding stock, and to building organisational resilience to be able to manage supply chain risks," states the report.
"A resilient supply chain also needs skilled procurement offices that can quickly establish links to alternative sources of supply if the supply chain breaks," it adds.
The importance of planning
Finally, the report advocates bringing all this together with regional planning and system management. Primary care agreements should be struck between the Australian Government and each state, contends the report. These agreements should specify the level of investment committed to improve primary care for patients, with targets for reducing hospital admissions set out. Performance should be monitored and the Australian Government, the state, and the PHN should be held accountable for progress against these objectives.
"PHNs have played a central role in delivering the Commonwealth's pandemic measures at the local level, but until now their importance has not been recognised," says the report. "In future, they will need to be strengthened, more closely integrated with state public health and acute services, and freed from some of the bureaucratic shackles that constrained them before the pandemic."