Women & children's / New models of care
Telemedicine robots help hospitals cope during crisis – and improve care
By Andrew Sansom | 17 Jul 2020 | 0
Alder Hey Children's and Liverpool Women's Hospitals have been using innovative telemedicine robots to provide high-quality care for babies without the clinician being present in the room.
Clinicians have been using new telemedicine robots, funded by Alder Hey Children's Charity, to treat young patients. Paediatric and neonatal surgeons from Alder Hey and neonatologists from Liverpool Women's will often work side by side on wards or in operating theatres in treating sick neonatal babies, but the COVID-19 pandemic has restricted movement of staff between the two hospitals.
This new equipment means that clinicians are still able to take part in ward rounds, deliver ad hoc emergency medical advice, and assist with urgent reviews for babies that have just been operated on – without having to travel to the relevant hospital site.
The telemedicine robots from INTouch Health feature two high definition cameras, which are said to allow a clinician at Alder Hey to obtain a clear view of a baby at the women's hospital, or vice versa. The cameras can zoom in to see every detail, with the main cameras being able to zoom up to 24x and the boom camera having the ability to zoom up to 36x. This capability enables clinicians to view vital details in order to make key clinical decisions.
The technology also has a port where devices such as stethoscopes or scanners with a USB or HDMI cable attached can be plugged in, allowing the clinician, who could be at home or working from another site, to make more accurate clinical decisions.
Two robots of the four purchased are active now between Alder Hey and Liverpool Women's, with the remaining two robots to be used at Alder Hey. The development forms part of Alder Hey's 'Digital Futures' strategy and is supported by the hospital's digital and innovation teams.
Weathering the crisis
Joanne Minford, consultant paediatric surgeon at Alder Hey Children's Hospital, said: "As the surgical lead for the Liverpool Neonatal Partnership, I can see both how much the system has helped the partnership weather COVID-19 and how it can help us continue to improve care for babies in the future.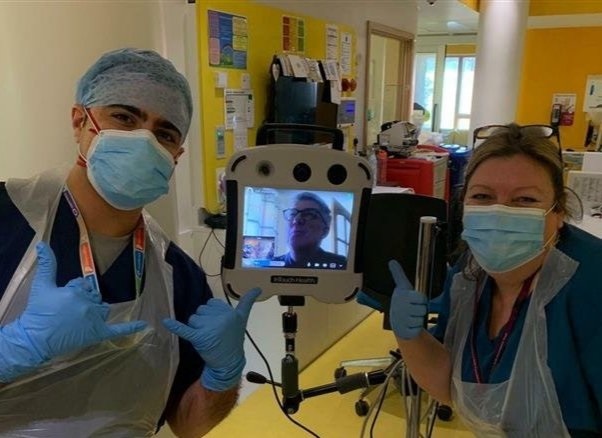 "The simplicity of the system, which is very intuitive, and the reduction of travel time has meant we can make medical and surgical decisions quickly and with all the information we need. We can see the babies in high definition and the first time I used the system, I felt just as if I were in the room. Parents seem to love it too – I can answer all the questions mums and dads have in a very natural way."
Fiona Ashworth, chief executive at Alder Hey Children's Charity, said: "The Charity is delighted to see this technology in use between the two hospitals, ensuring a seamless sharing of expertise in time-critical situations. The impact of using this technology now during the current crisis has been incredible, but even beyond that the ongoing benefits for the communities that both hospitals serve are amazing."
Threat to service provision
Dr Chris Dewhurst, clinical director for the Liverpool Neonatal Partnership, commented: "At the start of the COVID-19 pandemic, there was a reduction of about a third in the face-to-face clinical time that the consultant neonatologists were able to provide. This reduction threatened our ability to provide a clinical service for the neonatal units at Liverpool Women's Hospital and Alder Hey Hospital. The telemedicine system has allowed our consultants who have been shielding to provide a full clinical service across both organisations.
He added that the telemedicine system has actually enhanced the care for babies at the hospitals.
"Busy specialists have been able to be at the baby's cot side within minutes of being contacted, providing their expert opinion and discussing with the families as if they were in the room," he explained. "Parents have fed back how they have been able to build a relationship with consultants who visited them regularly, despite not meeting them in person. Telemedicine has now become part of our normal care for babies across the city."
Alder Hey Children's Hospital and Liverpool Women's Hospital are working together to create a single neonatal service across both hospital sites in order to protect the most vulnerable babies and provide an improved experience for them, their families, and the staff providing neonatal care.
This year, Liverpool Women's announced plans for the redevelopment of its existing neonatal unit, and there are plans, too, for a new neonatal intensive care unit opening at Alder Hey in 2022.